Summary
Well hi there! My name is Lauren and I'm an admin on this lovely wiki. I love Murdoch Mysteries and am so glad I stumbled upon this wiki back in summer 2012. I started watching Murdoch Mysteries back in grade 6, when season 3 was airing. I remember watching Love and Human Remains and falling in love with the show. I also remember watching "Anything You Can Do..." and instantly becoming a shipper of William Murdoch and Julia Ogden. Since then I've caught up on seasons 1 and 2, and watched seasons 4, 5, 6, 7, 8, 9, and 10 live when they aired. I'm a huge fan. I also ship George Crabtree and Emily Grace, even though she left the show. One day she will be back!
In July 2013, I entered a contest hosted by the Writers Guild of Canada that was all about making a video of yourself talking about your favorite Canadian TV show. The prize was a signed script from the show as well as a complete boxed set of all the seasons on DVD. Well, of course I made my video on Murdoch Mysteries, and August 12, 2013, it was announced that I had won! Very exciting. My package came on September 10 and I absolutely love it. All main 5 cast members at the time signed the script, as well as Michael Seater, and on the back page, all the writers signed it too.
In April 2016, I got to meet
Jonny Harris
on Vancouver Island after his comedy performance for one of the episodes of his show Still Standing. The episode I'm in is in season 3, called 'Lake Cowichan'. 
Then in October 2017, on my 19th birthday, I got to meet
Yannick Bisson
and
Helene Joy
at the
Murdoch Takes Vancouver
event! It was an amazing birthday present- the two of them are so beautiful.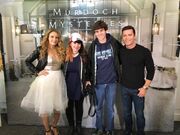 On the wikia, I like to add to the episode and character pages so they have lots of information, as that's what many of the visitors to the wikia go to. One of my special projects is the Season 11 Episodes and Guides page and all pages to do with Season 11. I like to hunt down spoilers so that's the perfect area for me! :)
I hope to see you around the wikia! Thanks for stopping by! LaurenLlama15 (talk)
Favorite Episodes
Blood and Circuses
The Green Muse
The Murdoch Identity
Dead End Street
Murdoch in Toyland
Murdoch and the Cloud of Doom
Murdoch in Ladies Wear
Crime and Punishment
The Murdoch Trap
Loch Ness Murdoch
Kung Fu Crabtree
and by far the best... Holy Matrimony, Murdoch!
Community content is available under
CC-BY-SA
unless otherwise noted.