"​The Knockdown​" is the third episode of the first season of the Murdoch Mysteries and the third episode of the series. It first aired on February 3, 2008.
Summary
A professional boxer from out of town defeats the local champion when he was supposed to lose. Hours later, he lies dead in his hotel room and his wife stands over him in a blood soaked dress with a gun in her hand.
The wife is the obvious suspect, but a local businessman, Jeb Cutler, has lost a lot of money on the fight. Cutler tells William Murdoch that he and the fighter's manager, Ozzie Beers, had agreed to the manager "selling" the fighter. The fighter refused to go along with the deal and the manager wanted to move to California with the boxer's wife.
The manager confesses to having shot the fighter but claims self defense. The evidence, however, supports premeditation.
Character Revelations
Continuity
Trivia
Historical References
Cast
Starring
Yannick Bisson as William Murdoch
Hélène Joy as Julia Ogden
Thomas Craig as Thomas Brackenreid
Jonny Harris as George Crabtree
Recurring Cast
Lachlan Murdoch as Constable Henry Higgins
Guest Cast
Phillip Jarrett as Ozzie Beers
Frank Moore as Jeb Cutler
Andrew Hinkson as Amos Robinson
Mariah Inger as Fannie Robinson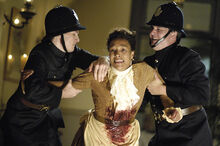 Other Cast
Mike Turner as Bob Sullivan
MJ Colburn as Margaret Cutler
Scott Anderson as Desk Clerk
Daniel Matmor as Newsman Louis
References
Gallery