Spoiler warning!
This article contains plot details or information about an upcoming episode/season which has not been aired world-wide yet. Don't believe everything you read, content is subject to change at any time.
Murdoch Mysteries has been renewed by CBC for Season 13, (204 episodes x one-hour mystery drama series, 3 x 2-hour holiday specials), and premiered September 16, 2019.
Murdoch Mysteries, based on Maureen Jennings's popular Detective Murdoch series of novels and premiered in Canada in January 2008, starring Yannick Bisson, Hélène Joy, Jonny Harris, and Thomas Craig, is a one-hour drama set in Toronto in early 1900s during the age of invention. Executive Producers are Christina Jennings, Scott Garvie, Peter Mitchell, Yannick Bisson and Hélène Joy.
On May 13, 2019, shooting began on Season 13 and wrapped in November.
For U.S. audiences, Season 13 began airing on December 25, 2019 on AcornTV.
"Murdoch Mysteries continues to draw passionate audiences in Canada and around the world – a testament to the talented team in front of and behind the camera. We're thrilled to deliver more of the mysteries and characters viewers love as we head into production on our thirteenth season," said Christina Jennings, Shaftesbury Chairman & CEO, who also serves as an executive producer on the show alongside Scott Garvie, Yannick Bisson, Hélène Joy, and Peter Mitchell, who also serves as showrunner, and produced by Stephen Montgomery and Julie Lacey. (May 2019) The series has become a staple for CBC and broadcasters around the world with its winning formula that brings together compelling mysteries, unique slices of turn-of-the-century history, ingenious inventions and personal moments for each character. The series is licensed to broadcasters in 150+ countries and territories including the U.S., U.K., France, Finland and China.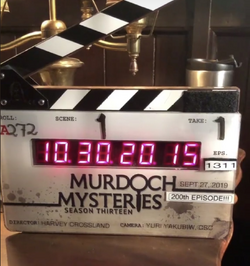 The Murdoch Mysteries brand continues to grow and evolve – brand licensing deals include an all-ages immersive game experience, The Murdoch Mysteries Escape Series, a collaboration between Shaftesbury and Company & Secret City Adventures, that launched in early 2017 in Toronto, and recently relocated to historic Casa Loma in Toronto.
Season 13 Storylines and other tidbits:
The 13th season sees the popular Canadian drama mark its 200th episode.
Yannick Bisson returns to the director's chair for a Season 13 episode. Other episodes will be directed by showrunner Peter Mitchell, Harvey Crossland, Gary Harvey, Mars Horodyski, Sherren Lee, Mina Shum, and Craig David Wallace. Season 13 episodes are written by Mitchell, Paul Aitken, Noelle Girard, Maureen Jennings, Simon McNabb, Mary Pedersen, and Dan Trotta.
Colm Feore (The Umbrella Academy, House Of Cards) has been tapped for guest star role (ep.1304).
Marc Senior (Eat, Drink & Be Buried: A Gourmet Detective Mystery, In God We Trust) joins the Station House team as Special Constable Robert Parker (ep.1302).
Patrick McKenna returns as Hamish Slorach.
August 1, 2019, Murdoch Mysteries was back on location in Toronto this month and will continue filming in the city until November. On August 27, Shaftesbury Murdoch XIII Inc. returned to Port Hope for exterior scenes in the Walton and Queen Street areas. Port Hope's heritage downtown and Cobourg have served as backdrops for several past seasons. Stratford also has been a suitable historical appearance and on August 30 filming occurred at Wellington Street and Market Square. In September, the series returned to Northumberland County twice in the span of just a few weeks to film scenes.
Thomas Brackenreid's daughter writes to him with a hope – one he is reluctant to grant (ep.1301)
Detective Murdoch is keeping a close eye on Ms. Hart; not trusting her motives, he is unwilling to give her any praises for her work in the City Morgue.
Claire Goose, who has appeared in such UK series as The Coroner, Death in Paradise, Waking the Dead and Casualty, guest stars as Dr. Talbot in the premiere episode.
George Crabtree's long-lost father is introduced (ep.1304).
On September 17 and 18, Season 13 filming was on location in Cobourg, just a few weeks prior to filming in Port Hope.
On September 30, filming returned to Kingston (8:30a.m.) for two scenes at Springer Market Square, the first 50 people at the "Fan Viewing Area" (marked with a sign) will receive a wristband enabling wearers to take part in a photo meet-and-greet with Bisson and Joy after filming (10:15-10:45 a.m.)
On Oct. 30, Murdoch Mysteries returned to Cobourg for the third time this season to film in the Victorian Hall area which includes approximately 80 actors and 26 production trucks.
Season 13 resumes filming in Toronto until mid November.
During CBC airing of Murdoch and the Cursed Caves, showrunner Peter Mitchell tweeted: cant see your tweets 2nite - overseas, getting ready for finale (don't hate me when u see it)...
Kingston Penitentiary will appear in a future episode, likely airing in February 2020.
Staring Blindly into the Future featuring Nikola Tesla and Marie Curie, is the 200th episode of the series if one includes the three stand-alone Christmas specials in the count which CBC does in this case.
Peter Mitchell live tweeted during Parker in the Rye: "We will get almost every character on MM behind bars this year."
On Feb. 17, 2020, the Academy of Canadian Cinema & Television announced Murdoch Mysteries earned three nominations: Best Photography in Drama, Best Achievement in Make-Up and Best Achievement in Hair.
On May 8, 2020, Murdoch Mysteries makes the 2020 Aurora Award ballot for Best Visual Presentation (Ep. 10-18 of Season 12 and Ep. 1-9 of Season 13), Peter Mitchell and Christina Jennings, Shaftesbury Films). The Aurora Awards are nominated by members of the Canadian Science Fiction and Fantasy Association.
On May 28, 2020, Murdoch Mysteries tied with Global TV's Private Eyes for the Golden Screen Award for TV Drama/Comedy; The (Canadian Screen Awards) academy special award is given to the most-watched program, based on TV ratings. CSA for Best Photography, Drama Series is awarded to Yuri Yakubiw, Best Achievement in Hair to Shirley Bond and Toni Mastropietro and Best Achievement in Make-up to Debi Drennan.
Episodes
1303
Paul Aitken
Sherren Lee
Forever Young
September 30, 2019
Murdoch investigates the bizarre murder of a young woman who disappeared a decade earlier yet somehow hasn't aged a day.
1313
Mary Pedersen and Noelle Girard
Craig David Wallace
Kill Thy Neighbour
January 27, 2020
Suspicion falls on William Murdoch when his neighbor turns up dead after a series of quarrels between the two. Murdoch's cufflink is found at the crime scene. As the evidence against him mounts, the team at Station House No. 4 races to prove he is being set up.
Find Where To Watch Murdoch Mysteries Here.