Spoiler warning!
This article contains plot details or information about an upcoming episode/season which has not been aired world-wide yet. Don't believe everything you read, content is subject to change at any time.
Murdoch Mysteries Season11 premiered on (USA, UK, etc) is scheduled for January 2018.
On March 13, 2017, it was announced that Murdoch Mysteries, the #1 Drama in Canada, will be back for its Eleventh Season this Fall on CBC (Canada).
On May 15, 2017, Season 11 began production, with so much at stake after the events of the heart-pounding season finale, Station House No. 4 was officially on lockdown until September 25, 2017 .
Announced on Dec. 2, 2017, episodes 1 & 2 of Season 11 premieres 12/25/17 on AcornTV (USA), prior to its official international release in January 2018.
In January 2018, Murdoch Mysteries is nominated for the 2018 ACTRA Toronto Awards for Series Ensemble.
On June 23, 2018, Murdoch Mysteries and Shaftesbury Films received the 2017 OHS President's Award for bringing international awareness and engagement to Ontario's rich history.
The show's eleventh season consists of 18 hour-long episodes and a two-hour Christmas special Home for the Holidays (featuring a reunion with Jasper Linney). The Christmas special was partly filmed in Victoria, British Columbia during the first week of October.
Since it re-located from City TV to CBC a handful of seasons ago, Murdoch Mysteries has been a ratings winner for CBC; with new episodes bringing in more than 1 million viewers in its Monday night time-slot. The show also plays well for Alibi in the UK and ranks as one of the channel's highest rated shows with an average audience of around 200K viewers.
Murdoch Mysteries is based on the series of novels by noted author Maureen Jennings and stars Yannick Bisson, Hélène Joy, Thomas Craig, and Jonny Harris. The series is produced by Shaftesbury in association with CBC, ITV Studios Global Entertainment and UKTV with the participation of the Canada Media Fund, the Canadian Film or Video Production Tax Credit, the Ontario Film and Television Tax Credit and the COGECO Program Development Fund. The executive producers are Christina Jennings, Scott Garvie, Yannick Bisson and Peter Mitchell, who is Murdoch Mysteries award-winning showrunner, director and writer.
Season 11
Threats, bribery, murder, kidnappings, fake news, and political take-over! How can such high level corruption be overcome?Peter Mitchell's thoughts at the end of Season 10: "I think it's a big enough mess that it will take more than one episode to clean it up. I've been studiously avoiding the hard work of making it all make sense. I think what I'll probably do is use a couple of the early episodes to deal with the repercussions of last year and then bounce the show ahead three months in time because I don't think we're purpose built to go dark, dark, dark. We're allowed to go dark on the show but I don't think we can stay there."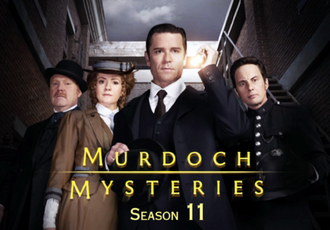 Episodes
1101
Peter Mitchell
Don McCutcheon
Up From Ashes
September 25, 2017
In the Season 11 premiere, a jailed Murdoch must prove his innocence amid police and government corruption after the constables are ambushed, Dr. Ogden is kidnapped and Inspector Brackenreid goes missing.
1104
Simon McNabb
Alison Reid
The Canadian Patient
October 16, 2017
Murdoch investigates a surgeon whose cutting-edge organ transplants wreak medical havoc and run afoul of Mary Baker Eddy and The Christian Science movement.
1109
Lori Spring
Eleanore Lindo
The Talking Dead
December 11, 2017
When two men die after seeing their own obituaries in the newspaper, Murdoch tries to protect other people with fraudulent obituaries who are still alive. To Crabtree's disappointment, Nina considers a job in Paris.
1110
Paul Aitken
Eleanore Lindo
F.L.A.S.H.!
January 8, 2018
A switchboard operator reports receiving a strange call, and hours later a man is found dead with a coded note in his pocket. Murdoch's investigation brings him to an investor's meeting for a high-speed transportation invention created by James Pendrick.
1113
Simon McNabb
Leslie Hope
Crabtree à la Carte
January 29, 2018
When a cooking contest judge gets poisoned, Murdoch discovers that competitors, including Crabtree and Margaret, also tasted the tainted ingredient.
Find Where To Watch Murdoch Mysteries Here.