Notice:
This wiki will be migrated to MediaWiki 1.37 in the coming weeks. It is highly recommended
before
contributing to this wikia that you review the "
Get Started
" page (updated prior to each new season). Our recent migration to UCP and the
redesign desktop
experience update have caused some issues, please do
NOT
attempt to correct these errors without communicating with the
Content Moderator
first
. Thank you.
Murdoch Mysteries or (The Artful Detective in the USA) is the award-winning Canadian detective drama television series set in Toronto in the last decade of the nineteenth century and the first decade of the twentieth, based on the novels by Maureen Jennings. The main character is Detective William Murdoch, played by Yannick Bisson.
Our goal is to create a comprehensive encyclopedia. Please assume all articles contain spoilers!
We currently have 1,890 articles, and 5,323 files, help expand and add articles* to this wiki!
You will have to sign-in to be a contributing editor at this time.
Get Started | Help pages | Policy | Maintenance
*All new articles must be pertinent to Murdoch Mysteries in accordance with this wiki's Editing Guidelines, established format and style. From the start, this wiki-pedia is a quiet and small community (compared to popular Fandoms) upholding a good editing standard in keeping with the series.
Next on Murdoch Mysteries
TBA
September, 2022 on CBC!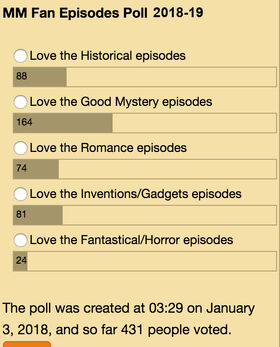 MM Wiki Updates in Progress
Migration (9/30/2020) from Legacy platform to new Unified Community Platform (UCP) has created some issues on this Wiki:
Active Poll (outdated tag) did not migrate - Fandom Team actively looking into alternatives.
Wrong image(s) in thumbnail(s) resolved; Website (desktop) under "Fan Feed" corrected (10/6) and under "Popular Pages" (10/12) by Fandom Team. A reminder to clear your browser cache.
Special:Community or "Get Started" page - Fandom Team has updated its migration.
Cast Infobox tag (code parser) corrected on Oct.5th by Fandom Team.
"Wiki Activity" is now "Recent Changes" in toolbar menu.
Auto "Welcome" message upon (new) user's first contribution has been deprecated.
"Category:Templates" solved with wrap tag on March 10, 2021.
Infobox templates are being migrated, aware of glitches...being worked on
The new FandomDesktop has reached full rollout thus the legacy design will be retired (8/2021).
This will migrate to MediaWiki 1.37 in April 2022.
Admin and Content Moderator continue their underneath-the-hood housekeeping; Please observe Editing Guidelines.