Cardan Grille Cipher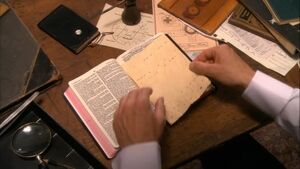 The Cardan Grille Cipher was first proposed by Girolamo Cardano in 1550. He would hide a message within a letter. A cardboard or paper template would have holes cut into it. When this template was placed on top of a written page, certain letters would show through the holes revealing the message. Variations include using a printed book page or a jumble of letters.
The Irish Republican Brotherhood used a Cardan Grille Cipher in their plot to kidnap Prince Alfred when His Highness visited Toronto. Detective William Murdoch was able to decipher it. The template was placed on a Bible page ("The Prince and the Rebel").
Community content is available under
CC-BY-SA
unless otherwise noted.